Product Description
PG3636BA36 Quazite Hand Hole 36 x 36 X 36 - ANSI Tier 22
Part Numbers: PG3636BA36
Open Bottom
Precast polymer concrete pull box
ANSI TIER 22 Traffic Rated for driveway, parking lot, and off-roadway applications subject to occasional non-deliberate heavy vehicular traffic.
QUAZITE® boxes (handholes / vaults / enclosures) are known for their structural integrity and long installation life. QUAZITE® boxes feature straight, sturdy sidewalls that transfer loads from cover forces down into the ground below the enclosure. End-users can be assured that QUAZITE® enclosures meet or exceed ANSI's national Standards.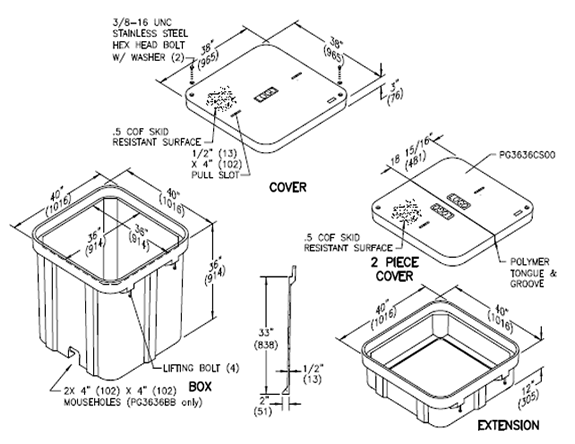 Enclosure Specs:
Enclosure Dimensions
Enclosure Weight
Dimension A
Design/Test Load #
ANSI Tier*
40" x 40"
367 (166 kg)
36"
22,500 / 33,750
22
CA (Standard) Cover Specs:
Cover Dimensions
Cover Weight
Design/Test Load #
ANSI Tier*
38" x 38" x 3"
201 (91 kg)
8,000 / 12,000

8
* Loadings comply with ANSI/SCTE 77
** Request a quote or call us at 800-767-1576 for more information.
Product Videos
Product Reviews